---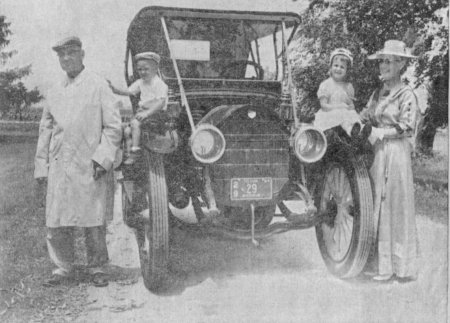 MR.AND MRS. LESTER BECK and their grandchildren, David and Elaine, eagerly don costumes for a motor trip aboard on of their favorite old cars, a 1912 Maxwell. Mrs. Beck shares her husband's interest and enthusiasm for antiques. She bought her authentically styled blue crepe dress from an auction in Farfield. Like some of her husband's purchaces she discovered the chassis was what she wanted but the body was falling apart. She bought all new material and made it into the same style using the auction dress trimmings. She goes all the way even unto buttoned shoes, which, she says, are extremely comfortable. Elaine's pink ruffled dress was made over from her grandmother's high school graduation dress.


Click on the picture to see the full size photo.
1912 Maxwell
"It's simply a question of either-or, either buy junk or pay a big price," said Lester Beck, president of the Southeast Iowa Antique car club.

"The 1912 Maxwell we own would bring about $3,000 on the market today. I paid $125 for it when it was a heap of junk. I bought it by mail from Randolph, Ill., sight, unseen. Frankly, if I had seen it before giving the check I probably wouldn't have bought it. Already 150 prospective buyers had looked at it and turned it down as being too impossible. I must say, there would have been 151 if I had looked at it before buying," Beck said.

Beck has traced the life history of his Maxwell back to Corydon where Sam Perkins, a farmer in Wayne county, won a new Maxwell by having the lucky number at a county fair.

As the story was told, the late Mr. Perkins did not like automobiles but kept the car for three years, driving it only 300 miles.
High Priced Tires
Sam Fry, a close neighbor, bought the three-year-old Maxwell for $300. After 3,000 miles the tires went bad. At that time, and it's the same today, tires cost more than $50 each. They did not want to pay such a price so they let the car stand in a shed.

The Maxwell stayed inside for awhile until the space was needed. Fry pulled it into the orchard. Later an apple tree fell on it. Here the Maxwell was home for years, rusting and rotting away.

When first pulled into the orchard, the top, side curtains and upholstering were as good as new. And the motor was in running condition.

After many years in the orchard, the car was sold again. The more the new owner looked at it, the more hopeless it appeared. A buyer from northern Iowa came down and bought the speedometer, lamps, horn, hub caps and all the brass but he said the rest wasn't worth taking.

The remaining parts were bought by Russell Kwasigroh of Randolph, Ill., who let the car stand outside under the edge of a roof where it was washed every time it rained.

"I had always wanted a Maxwell," Beck said, "and my wife, Ruth, said her grandparents had one with the leather straps in front to hold the top. When Kwasigroh advertised this car for sale, I answered his ad. After some correspondence with him, a letter came saying, 'I received your check and you now own a 1912 Maxwell touring car'."
Kindest Remark
"The kindest comment I received," Beck said: "Well, it would be a nice car if it was all there and fixed up."

"Work started as I put the remains inside a building, the first time in 35 or 40 years the Maxwell had been so kindly treated," he said. Reconstruction occupied Beck's spare moments for two years.

Then on Father's Day,of 1962 the old Maxwell acted like a car once more. For the first time, since 1923 the 1912 Maxwell let its top down, filled its seat with riders and a driver and took off down the road.

A bulb air-hose horn warns other drivers and small children that a Maxwell is on the road again.
---
Webmasters Note: This article originally appeared in The Hawk Eye Newspaper in or around 1963. It appeared as a feature of three SIACC members who would be participating in the Steamboat Days Parade. Lester Beck passed away many years ago now. I have faint memories of him and visiting his farm. My fondest memory is riding down his driveway in his 1916 Detroit Electric. Because of this memory, I hope to have an early electric car of my own someday.
---
How to contact me...

   Address:
John M. Daly
P.O. Box 244
Millington, IL 60537
   Phone:
815-695-9451
     :
emf-owner@sbcglobal.net
---
Thanks for visiting the SIACC web site. Please come back anytime.
Copyright © 2003 John M. Daly - All rights reserved.