---
1930 Dodge Model DC 8-Cylinder Coupe
Owner: Ken & Norma Young
---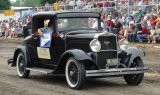 1930 Dodge DC-8 Coupe going through the Cavalcade of Power at the 2003 Old Threshers Reunion in Mt. Pleasant Iowa.
Click on the picture to see the full size photo.
The automobile featured in this auto-biography is owned by Ken and Norma Young. It is a 1930 Dodge Straight eight rumble seat coupe. Book says 2999 were built and sold for about $1100.00 new. Ken says of the car, "We aquired the Dodge in August 1951 in Keota, Iowa to use as a push car for the Standard Oil Station we had just purchased in Keota, Iowa."
"In October of 1951, I received a letter from a Harry Truman, the President of the United States of America, that informed me that he was drafting me into the armed forces of the United States milatary, and I had about 30 days to get ready to go into the Service. We sold the Service Station in October. After selling it, the draft board of the County all resigned and the county could not draft any body until they had selected a new draft board. They finally got a draft board selected in March 1952 and I went into the Marines in May 1952."
"My father just retired from the railroad and had never driven a car or owned one. I taught him to drive the Dodge and he bought it from me for the same price I had paid for it $50.00. He put a trailor hitch on the Dodge and pulled the trailer from Cedar Rapids, Iowa to Oakland Mills, Iowa and lived in the trailor till 1961. He was visiting in California in the spring of 1961 when the Skunk river flooded in Oakland Mills and the water got over the roof of the Dodge. My brother-in-law towed the car to Douds, Iowa and took the running gear all apart and rebuilt what was nessasary but did nothing to the body. We got the Dodge back in 1975 and had it repainted and fixed up as it is today."
"We have shown the 1930 Dodge Ruble Seat Coupe at Old Threshers since 1984."
A Brief History of Dodge, Pre-1930
Dodge Brothers, Inc. was formed by John and Horace Dodge. These two brothers began their careers as bicycle machinists in their father's shop in Michigan. They moved to Windsor, Ontario, Canada were they adapted their skills to meet the need of the young automobile industry, and found great success in producing intricate automobile parts.

It wasn't long before John and Horace came to the attention of Henry Ford. He was so impressed with the brothers that he offered them one-tenth interest in his new motor car company.That partnership lasted for the next 12 years.The brothers then split from Ford to pursue their own interests in automobile manufacturing because, at the time, Ford cars were built with virtually all Dodge parts. When asked why he and his brother wanted to build their own car, John Dodge reportedly said, "Think of all the Ford owners who will someday want an automobile." In 1914, Dodge Brothers, Inc. was formed. That first year Dodge built a total of 249 new cars. Dodge continued to produce fine automobiles all the way up to 1928 when Chrysler acquired the Dodge Brothers, Inc. and became part of the Chrysler family of fine automobiles.
1930 Dodge Coupe Information
This 1930 Dodge Coupe sports the straight 8 engine. In 1930, you could get either a straight 6 (Model DD) or a straight 8 (Model DC). The Model DC Straight 8 was rated at 75 hp, 220.7 cid, Bore/Stroke: 2.88/4.25 inches and rode on a wheelbase of 114 inches. The car weighed in at 2981 pounds and cost $1125 US dollars. There were 2999 of the 1930 Dodge Model DC coupes built and this is one fine example.



CLICK HERE to return to the Auto-Biographies page
---
How to contact me...

   Address:
John M. Daly
P.O. Box 244
Millington, IL 60537
   Phone:
815-695-9451
     :
emf-owner@sbcglobal.net
---
Thanks for visiting the SIACC web site. Please come back anytime.
Copyright © 2004 John M. Daly - All rights reserved.